Computer Lab and Printing
Alongside the many services provided by the Military & Veterans Resource Center, we also provide a computer lab to help with all your educational needs.
---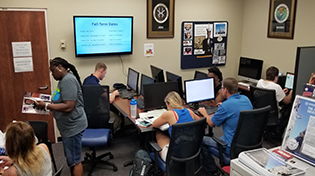 Computer Lab
The computer lab has (11) Windows Computers. The majority of essential computer programs are available for use anytime during the semester. Any additional programs needed can be requested to be installed through our in-office I.T. Support Team. Along with programs, we can also help you in proctoring online testing. The University of West Florida has begun facilitating its online exams through Respondus Lockdown Browser. This browser also requires a webcam to be used in order to validate your exam. The Military & Veterans Resource Center is able to provide a webcam and computer to use to proctor your exam!
Printing
The Military & Veterans Resource Center allows free printing of up to 25 pages per day! This is an excellent resource and can help save money on printing copies of your class notes, exams, or term papers! This service is available to all military affiliated students.
Scanning
Our office now has a scanner that allows the student to scan documents to themselves.