General Education Mobile (GEM)
What is GEM? GEM is an exciting partnership between CCAF and civilian academic institutions
---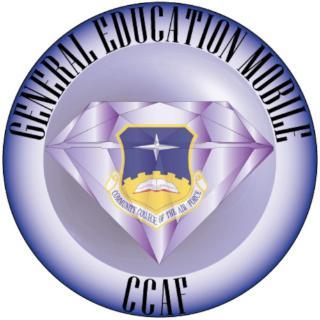 General Education Mobile
Welcome to the University of West Florida's (UWF) general education programs in support of the CCAF GEM program. The GEM program is a partnership between the Community College of the Air Force (CCAF) and approved academic institutions. GEM courses offered by UWF are in a distance learning format to provide worldwide access reducing the impact of deployments, PCS and family commitments.
This program is specifically for those Air Force and Space Force students who desire to complete their CCAF degree and meet the 15 semester hour general education degree requirements by successfully completing UWF Community College of the Air Force approved GEM general education courses. The following are approved GEM courses at UWF:
ORAL COMMUNICATION:
SPC 2608 Basic Communication Skills
WRITTEN COMMUNICATION:
ENC 1101 English Composition I
ENC 1102 English Composition II
MATHEMATICS:
MGF1106 Mathematics for Liberal Arts
SOCIAL SCIENCES:
ANT 2000 Introduction to Anthropology
ECO 2013 Principles of Economics Macro
PSY 2012 General Psychology
HUMANITIES:
MUL 2110 Music in Western Civilization
PHI 2010 Introduction to Philosophy
PHI 2603 Ethics in Contemporary Society
ARH 1010 Introduction to Art History
The average course length is 16 weeks for fall and spring semesters, and an average of 12 weeks for the summer semester. Some courses may also be offered in an accelerated term within the semester. Accelerated course length average is 8 weeks for fall and spring semesters, and an average of 6 weeks for the summer semester. Course descriptions, general course information, course schedule by semester, and material / supply / equipment information can be found in the UWF online catalog course information webpage. Tuition and fee information is available in the UWF online catalog Tuition and Fee information webpage.
To participate in the program, first apply to UWF as a non-degree seeking student using the online application, and Choose GEM within the AF Tuition Assistance Request Form. After you have created your UWF account and been accepted as a non-degree student, enroll in the UWF GEM approved course(s) from within your UWF account. The course enrolled in must also be listed as GEM within the AF Tuition Assistance Request Form.
If at any time assistance is required with the application, enrollment, military TA, general questions or other support, please contact the MVRC at mvrcta@uwf.edu, call 850.474.2550, or for a live chat please use the Zoom Link.
From within the AFVEC, apply for your Air Force military Tuition Assistance (TA). Once your TA has been approved, please download and provide a pdf copy to mvrcta@uwf.edu. After providing your military TA to the MVRC, monitor your UWF CashNet account for when your account is credited for the TA voucher and the TA Fee Waiver that the Cashier applies. In most cases, this will leave a balance of $38.88 per semester hour that will be the student's responsibility to pay. (See below tuition NOTE regarding the Florida Tuition Differential $38.88).
Tuition for GEM/UWF online courses: Tuition and fees for GEM courses is the same as UWF's online courses. Servicemembers stationed outside of Florida, and who have a driver license and LES block indicating taxes are paid to a state other than Florida, will need to submit the "Active Duty out of State Waiver (ADOW) form". To locate the ADOW form, you must log in to your UWF account and be enrolled in a course. For servicemembers stationed at an installation within the state of Florida, provide a copy of your current orders to admissions@uwf.edu and include your student ID, or provide a copy to mvrcta@uwf.edu for processing to admissions. Servicemembers using military TA for undergraduate courses at UWF will receive a waiver of all non-tuition fees.
Tuition NOTE: In 2017, the Air Force made a policy decision to no longer fund the Florida Tuition Differential ($38.88 per semester hour). Like the Base Tuition Fee of $105.07 per semester hour for undergraduate courses, the Florida Tuition Differential is a Tuition Fee within the course cost, and therefore not included in the non-tuition fee waiver that the Cashier applies for servicemembers using military TA. This results in an out-of-pocket expense for service members using Air Force TA of $38.88 per semester hour.
Additionally, non-degree seeking students are not eligible for FAFSA funding. For additional information, please visit the UWF Financial Aid website.
Points of contact for the GEM program at UWF are David Hirras or Leam Bonilla. For assistance, they can be reached at 850.474.2550 or mvrcta@uwf.edu.