Types of Aid - Student Employment
Student employment types of aid include graduate assistantships, student employment, and federal work study.
---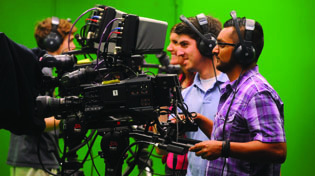 Types of Student Employment
Your UWF aid package is a combination of awards depending on your academic standing, grade level, residency status, dependency status, cost of attendance and financial need. Financial Aid Package Offers include scholarships, grants, loans, and work-study that are all part of what makes a UWF education affordable.
Graduate Assistantships
Graduate Assistantships are available in many departments across campus. Please contact Graduate Admissions or your academic department regarding availability. Graduate Assistants are paid bi-weekly and some receive partial tuition waivers.
Other Personal Services (OPS) Student Employment
There are many opportunities for students to be employed on campus outside of the Federal Work-Study program. Student job opportunities are posted on the UWF Careers website categorized under "Work Type: Student." Additionally, departments that hire large numbers of students may post employment opportunities on their individual websites or in their office.
Federal Work-Study (FWS)
Federally funded program that provides part-time, on-campus or off-campus jobs for students with financial need. The money awarded is not directly applied to students' semester bill; instead, students will earn the awarded amount by receiving a bi-weekly paycheck based on hours worked during the pay period.
FWS provides college students who are in financial need a chance to:
Learn useful skills that can be applied to their future employment.
Networking, professional references, professional development, etc.
Earn money while pursuing their degree and without negative impacts to their financial need.
FWS is employment with assigned job duties; therefore, students are not getting paid to study and/or complete homework assignments.
Please see general questions about federal work study for more information.
On-campus Employment – job in an academic or administrative area on-campus. This job opportunity does not require you to have transportation. Available jobs include front desk in Argo Central, Library positions and office assistant in a department.
Off-campus Community Employment – job with a community partner at an off-campus location. You will be able to choose from a list of local agencies, and you will need to have transportation. Community partners include, Gulf Islands National Seashore, Sacred Heart Hospital, Pensacola Museum of Art, American Cancer Society, West Florida Healthcare and others.
On-campus Research Employment – job working with a UWF faculty member contributing to a research inquiry or investigation. The program will prioritize students new to research, particularly underclassmen. Benefits of these research positions include the development of valuable research experience and career preparation skills. Available jobs include research projects in Criminology & Criminal Justice; Legal Studies, Public Administration & Sports Management; Nursing; Biology; and Earth & Environmental Sciences, among other departments.
A student must complete a Free Application for Federal Student Aid (FAFSA) by the priority deadline published on the Office of Financial Aid & Scholarship's website. If randomly selected for verification, all verification forms with appropriate income tax documentation must be submitted. Any other documentation requirements not associated with verification must also be completed. Returning students must complete this procedure each academic year.
Be a U.S. citizen or eligible noncitizen.
Demonstrate financial need. Details on how financial need is calculated can be found at Financial Need and Award Information.
Be a degree-seeking student enrolled at least half-time (i.e., no less than 6 eligible credit hours).
Working toward completion of their first undergraduate degree.
Maintaining Satisfactory Academic Progress.
Current students are notified of their eligibility to participate via their UWF Gmail account by the Office of Financial Aid & Scholarships. Email notifications typically start in July. Students are provided detailed instructions on where and how to apply. If a student has not been notified, they may be ineligible for various reasons.
If you are hired, your supervisor will notify our office, and the FWS funds will be added to your financial aid package. If the addition of FWS funds impacts your previously awarded amounts, you will be notified when you receive a 'revised award' notification via email.
The FWS eligibility notification via email does NOT guarantee a position. Current students must apply online and be successfully hired for an open position.
A very limited population of entering freshmen will be offered work study funds on their financial aid package. To ensure you are assigned a position, you must accept the funds by the date reflected on your original award notice. This award notice will be sent to your preferred email address on your record.
There are limited positions available, so if you do not accept the FWS funds by the deadline date, the offered award will be canceled and you will not receive a job assignment.
Any questions can be directed to workstudy@uwf.edu
Students will apply for available FWS positions through the Handshake platform found in the MyUWF portal.
After a student submits their resume to the hiring supervisor, the supervisor will review the resumes and contact students directly if they are interested in them for the opening.
The supervisor will contact the student applicant if an interview is required.
After the supervisor makes a decision, they will contact the student applicant to advise the student of the hiring decision.
Students will work with their supervisor to determine their work schedule.
Students may

not

accept more than one work study position.
Yes. If you need help creating or revising a résumé, you can make an appointment with Career Education by calling 850.474.2254 or utilize online resources.
All hired and assigned students must complete the online FWS orientation. More information will be provided once our office is notified that you have been hired or once your assignment has been determined. Orientation must be completed before your first day of work.
Students must complete all necessary new hire paperwork with the Human Resources Office or their direct supervisor. All paperwork must be completed before your first day of work.
Students cannot begin work before the first day of the semester. Likewise, students cannot work after the last day of the semester.