Argo 30 Guarantee
The Argo 30 Guarantee covers tuition and mandatory fees not covered by other grants or scholarships for qualifying Pell-eligible Florida residents.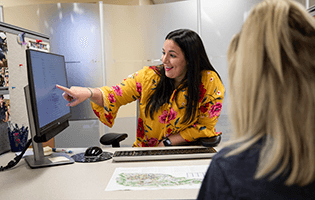 The Argo 30 Guarantee fills the gap between Pell grants and remaining tuition and mandatory fees.
Argo 30 Guarantee Program
UWF is committed to ensuring all students have access to higher education, despite their financial situation. UWF's Argo 30 Guarantee is the University's pledge to cover tuition and mandatory fees for low-income students.
The Argo 30 Guarantee is awarded to incoming undergraduate Florida residents who are full-time Pell Grant eligible and working toward their first undergraduate degree. Argo 30 will cover all tuition and mandatory fees not covered by other grants or scholarships (up to 30 credit hours each academic year, fall and spring semesters, for a maximum of four years).
Pell Grants provide financial aid for low-income undergraduate students and allow them to attend college with no repayment. Approximately 35-40% of Florida resident, undergraduate students at UWF qualify for a Federal Pell Grant annually.
Application Process
Incoming eligible students will automatically be considered for the Argo 30 Guarantee if they complete the FAFSA. This application will determine whether a student is eligible for a Federal Pell Grant.
Eligibility Requirements
Classified as Pell Grant-eligible via the Free Application for Federal Student Aid (FAFSA).
Classified as a Florida resident for tuition purposes.
Have a remaining tuition and mandatory fee balance not fully covered by Pell Grant or other gift aid, such as grants or scholarships.
Have a valid Social Security number.
Enrolled or accepted for enrollment at UWF for the purpose of obtaining the student's first bachelor's degree.
Maintain satisfactory academic progress once enrolled in college.
Maintain full-time enrollment per aid year. Full-time enrollment is considered to be 12 hours for an undergraduate student.
Fill out and sign the FAFSA's certification statement, which says that the student is not in default on a federal student loan, does not owe money on a federal grant, and will use the funds provided for federal student aid for educational purposes only.