Entrepreneur Spotlights
These efforts were made possible by the generous donations of The Studers.
---
JL Cruz
JL Cruz
UWF alumnus, JL Cruz, has had a long-standing passion for opening a pool hall. The main idea is to create a family-friendly environment with less smoke involved. Cruz collaborated with some students of our Center to craft a tangible business plan. The students presented their findings which included an estimate of the total costs and potential revenues of opening. By getting involved with the Center for Entrepreneurship, JL Cruz's passion to open a pool hall, that was once just an idea, has been given some life.
For now, you can find JL at Pillar of Light Performance LLC. He is a certified athletic trainer, personal trainer, and Titleist Performance Institute (TPI) Certified professional. One of JL's main focuses is evaluating how golfers move using the TPI screening model. He analyzes their swing on video to determine how their movement is negatively affecting their swing. He creates strength and movement training programs to help them address any issues and build better and more efficient moving patterns to improve their swing.
We thank JL Cruz for sharing his passion and entrepreneurial experience with us and for working with our students to further develop his entrepreneurial aspirations!
---
Brett Carter Jr.
Brett Carter Jr.
Brett Carter Jr. is a 22-year-old aspiring entrepreneur, finance major, and UWF Men's Basketball player, graduating Fall 2020. Out of the classroom, he has advanced his financial interests with his development of a mobile application that uses third-party data to help a user budget, decrease debt, and invest by making personal financial recommendations. The app allows you to input your personal banking information, loans, and bills to find ways to save money. It features tips and tricks for decreasing debt and offers stock market investment recommendations based on the user's inputted personal preferences. The app also has the ability to connect the user to external websites like the Robinhood trading app. Brett is focused on offering a product that is effective, interactive, easy to use, and fun. He is passionate about creating widespread financial freedom and literacy and found this app to be the perfect avenue for an increasingly digital world. Brett is currently seeking the necessary capital to complete, release, and maintain his application in the App Store.
The UWF Center for Entrepreneurship is working with Brett to finalize his endeavor and support his entrepreneurial spirit. We are proud to feature him as an excellent application of what the University of West Florida College of Business has to offer to the global business community. Be on the lookout for this new, savvy software from our promising student entrepreneur.
---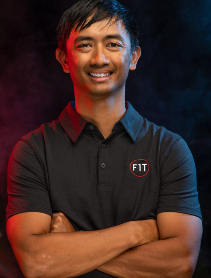 Lorenzo Aguilar
Lorenzo Aguilar
Lorenzo Aguilar is the owner and founder of Fitness Impact Training, a human and sports performance training center located in Downtown Pensacola. FIT offers personal training, bootcamp-style classes, performance training, and physical therapy. The company's mission is to positively impact the way fitness is done through smarter, more effective programs and a holistic approach. A highly sought-after coach for healthy and injured clients alike, Lorenzo has helped people and athletes at all levels. He is an NSCA-endorsed Corrective Exercise and Performance Enhancement Specialist who received his B.S. in exercise science from the University of West Florida.
Lorenzo specializes in applied functional anatomy and human movement science as they relate to program design, corrective exercise, strength & conditioning, and human & athletic performance. He challenges himself as a coach and mentor to change the lives of his clients in two ways: first, by teaching them to be better athletes, and second, by positively impacting their mentalities. With his positive energy and genuine belief in others, he empowers athletes to increase their confidence and self-esteem. Lorenzo takes pride in leading his clients to be the best they can be, and we take pride in having him as an exceptional UWF alumnus. The Center for Entrepreneurship is excited to work with Lorenzo to help him achieve his entrepreneurial ambitions.
---