1990-99
UWF expanded its offerings when it added another location. UWF athletics made a significant move in sports divisions and a team won UWF's first national championship title. UWF gave students an updated and expanded space to study and a big space for theatre and the arts. Learn more about UWF's growth and reorganization changes that were made to UWF's colleges.
---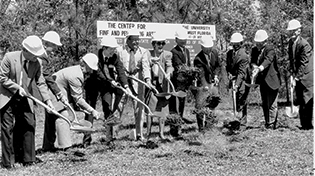 1991
CFPA Expansion
October: President Marx dedicates the newly opened Center for Fine & Performing Arts as the heart of artistic expression for UWF and a primary destination for arts and culture in Northwest Florida.
1992
New Fort Walton Beach Location
August: UWF and Okaloosa Walton Community College, now Northwest Florida State College, build and open a new joint location where the two institutions administer their programs.
1993
National Champions
May: The UWF softball team wins the NAIA softball national championship, marking the first team national championship in UWF athletics history.
1994
NCAA Membership
August: The University transitions from the NAIA to full membership in the National Collegiate Athletic Association Division II and the Gulf South Conference.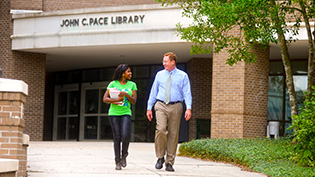 1995
Library Renovation and Expansion
September: UWF unveils an expanded and renovated John C. Pace Library, featuring the addition of the eastside structure, which includes distinctive, curved first and second floors and a four-story stairwell.
1999
Academic Realignment Continuation
August: The colleges reorganize into the College of Arts and Sciences, the College of Business and the College of Professional Studies.
---