1980-89
UWF added a presence in Fort Walton Beach, freshman enrolled for the first time as Argonauts and the National Public Radio for Florida's Great Northwest took to the airwaves. Find out more about the University's bigger exposure and the big impact UWF's third president made during his 14 years of service to UWF.
---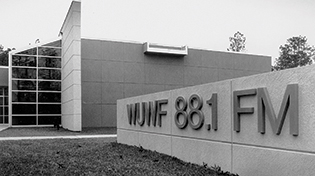 1981
Establishment of WUWF
January: WUWF Public Radio makes its inaugural broadcast. The station was established with a mission to create a more informed public—one challenged and invigorated by a deeper understanding and appreciation of events, ideas, and cultures. Through innovative community partnerships, the station produces, acquires and distributes programming that meets the highest standards of public service in journalism and cultural expression.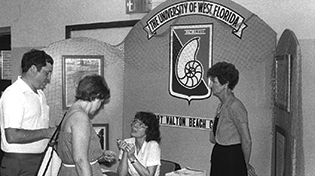 1983
Fort Walton Beach Expansion
August: UWF and Okaloosa Walton Community College, now Northwest Florida State College, open a joint-education facility at the former Oakland Heights Elementary School.
Freshmen Enroll
August: UWF establishes a lower division and freshmen enroll for the first time after authorization from the Florida Legislature.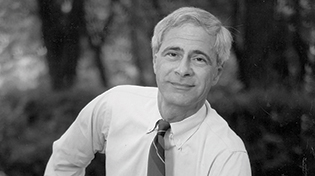 1988
Academic Realignment
July: The Department of Computer Science moves from the College of Business into a fourth college, the College of Science and Technology.
President Marx
September: Dr. Morris Marx assumes the presidency and serves for 14 years before retiring in 2002. Marx oversees significant expansion, highlighted by the opening of the Fort Walton Beach location and ushering in education specialist program and facilities such as the Center for Fine and Performing Arts, College of Education Complex, student services building, psychology building, residence halls and on-campus apartments.
---