1960-69
UWF was established in 1963 and opened four years later. The University's early days were marked by many firsts: president, class, athletic event and commencement ceremony. Explore the University's start among the pines and the young UWF that would later evolve into an innovative leader in higher education that has awarded more than 100,000 degrees.
---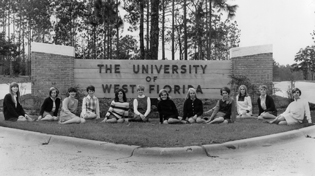 1963
Establishment of the University of West Florida
May: Following a feasibility study that demonstrated the need for a university in Northwest Florida, the Florida Legislature allocates funding to develop UWF, which became the sixth out of twelve institutions of higher learning in the State University System of Florida.
1964
President Crosby
July: Dr. Harold Crosby assumes office as the first UWF president. Crosby oversees construction of the campus and a litany of firsts for the University including the undergraduate programs receiving accreditation from the Southern Association of Colleges and Schools, the UWF Foundation being chartered, the opening of the John C. Pace Library and the establishment of the UWF Fort Walton Beach Center.
1965
Groundbreaking
April: Groundbreaking for UWF takes place on April 16, 1965, on the 13 parcels of land that Escambia County purchased for $1.2 million.
Official Emblem
May: President Crosby selects the chambered nautilus as the official emblem. This was selected alongside the poem, "The Chambered Nautilus" by Oliver Wendell Holmes.
1966
President's Office
June: President Crosby moves into Building 10, one of the first three completed buildings.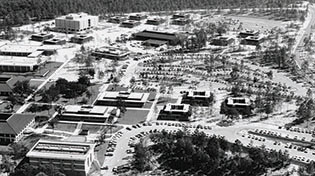 1967
First Semester of Classes
September: UWF opens as an upper division school, with students enrolling in Fall 1967.
University Mascot Chosen
November: The student body selects the Argonauts, the crew of the ship Argo who sought to capture the golden fleece under the leadership of Jason in Greek mythology, as the mascot.
UWF Athletics
December: The men's basketball team beats Valdosta State 76-75 in the first athletics event for a UWF team. UWF fields three men's teams—basketball, golf and tennis—during the school year.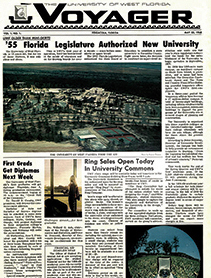 1968
Library Dedication
January: President Crosby dedicates the library to John C. Pace, a prominent supporter of higher education in Northwest Florida and first chairman of the State Board of Regents.
The Voyager
May: UWF students inaugurate the campus newspaper, The Voyager.
Inaugural Commencement Ceremony
June: The first commencement ceremony is held, with 58 students receiving degrees.
1969
Graduate Programs
May: The Board of Trustees approves the first master's programs in English, Elementary Education and History to begin in September that same year. The Board also approves courses leading to master's degrees in Professional Education and Aeronautical Systems beginning in September.
---