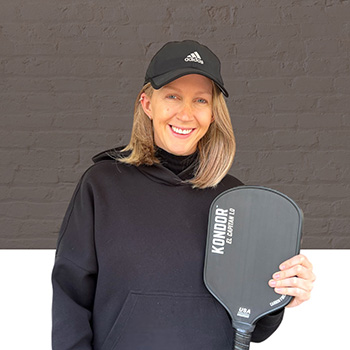 Chandler Carney
CEO and Owner, KONDOR Pickleball
Chandler Carney is the CEO and owner of KONDOR Pickleball, an international pickleball sporting goods company run by women and semi-pro athletes, out of both Florida and Santiago, Chile. Chandler graduated in 2014 with a Bachelor of Arts in Legal Studies/Pre-Law as one of the first EMERGE scholars. She was a captain of the UWF volleyball team under Coach Melissa Wolter. Upon graduation, she returned to her hometown of Indianapolis to study law at Indiana University until she obtained a Juris Doctor degree in 2017.
How did your education at UWF prepare you for starting a business?
Practically speaking, courses like contracts/business entities and legal research and writing prepared me for law school, while my professors' connections and local internships gave me the experiences I needed to help me find what I was good at. Prior to graduation, I was selected as an EMERGE scholar and afforded the incredible opportunity to travel to Japan with a group of students where we carried out cross-cultural studies. We saw how the Japanese treat their older adults, which really stuck with me over the years. I loved how Japan's elderly were not simply hidden away or forgotten in nursing homes, but rather incorporated into society, made to feel important and cared for. The Japanese showed us the importance of staying in motion and minimizing stress – and what a healthy, balanced lifestyle can do for you. This helped form my outlook on life and is ultimately what led me to start KONDOR pickleball.
Explain how Chile gave you a new outlook on life.
During law school, I had the opportunity to do an internship in Chile and fell in love with the country. Everyone was so welcoming and sociable. The idea of moving there appealed to me greatly but seemed unattainable as an attorney since we are usually bound to practice in the state we are licensed in. So, after graduating from law school, I moved to New Mexico to start a career in immigration law. Representing immigrants close to the Mexican border and traveling to Latin America whenever I could helped me become fluent in Spanish, and made me feel like I was (sort of) meeting my goals. But sitting at the office from dusk till dawn, in a state where I did not know anyone, left me disheartened, lonely and feeling unhealthier than ever! I missed the active, social lifestyle I had previously lived as a UWF student-athlete. I needed more. I made a bold decision to quit my job and establish Carney Immigration Law, a virtual immigration law practice. While very unpopular prior to the pandemic, it allowed me to move to Chile. Many tried to talk me out of my seemingly unconventional decision. But I knew that, if all went well, it would give me the freedom and flexibility I had been seeking. In Chile, I was able to work hard in the mornings and walk or hike during the afternoons. I could work at my job without neglecting my health, my dog or my social life. Eventually, I found a racket sport very popular in Chile called "padel," and became addicted. I started training at a high level almost daily. In 2021, I was given the opportunity to represent Team USA at the Pan American games in Asunción, Paraguay where my partner and I finished as semi-finalists against Brazil and Paraguay. I recently learned I will compete for Team USA in December 2023 at the Pan American games in Camboriú, Brazil. The thrill of returning to the sports world, surrounded by athletes, rekindled a fire within me. I felt better than ever.
How did you come up with the idea to start KONDOR Pickleball?
Truly, KONDOR Pickleball was born out of my love for sports, traveling and community. I noticed pickleball was growing exponentially in the United States among people of all ages. I thought, "What if pickleball could save Americans from feeling how I used to feel in New Mexico?" Padel got me moving and made me instant friends in Chile. I wanted to somehow share that experience with Americans. But I noticed there were not many paddles on the market at the time with a very comfortable extended grip or gritty paddle surface, for example. Some of the designs also seemed outdated. KONDOR puts a strong focus on producing high-quality, good looking products right for anyone just starting to play all the way to advanced professional players.
What is your best memory from your days at UWF?
I think my greatest memories are a mixture of celebrating victories with my teammates and spending time on the Emerald Coast! There's nothing like Pensacola Beach and its white sand.