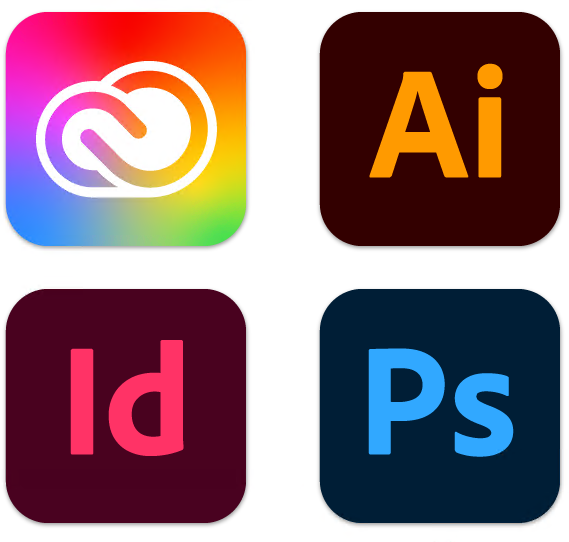 Use these programs and more on any device from anywhere!
Adobe Creative Cloud
The library provides access to the Adobe Creative Cloud suite of applications (including Photoshop, InDesign, Premiere, Illustrator, Acrobat, etc.) via a variety of methods.
In Person Access
The library maintains dedicated multimedia workstations at all three library locations:
Building 32 - Skylab (5th Floor)
At this location there are at least 12 dedicated multimedia workstations, several of which have dual displays and a few with 38-inch curved ultrawide displays. Additional specialized hardware is available at this location including oversize ADF scanners, Wacom Cintiq pen displays, and other media conversion/capture equipment. There is also a dedicated staff member at this location who can assist with software questions and give project advice.
Building 86 - Room 105 (Professional Studies Library)
At this location there are two media workstations (one with a 38-inch curved ultrawide display) and a flatbed scanner.
Fort Walton Beach Campus - Building 8
At this location there are two media workstations (one with a 38-inch curved ultrawide display) and a flatbed scanner.
Remote Access
The library also maintains a separate lab of 10 Creative Cloud workstations that can be accessed remotely using ArgoApps (via a partnership with ITS). This allows the Creative Suite applications to be accessed from anywhere and using almost any device (including tablets like iPads and Chromebooks).
The fastest and easiest way to access this software is to log in to the ArgoApps web interface, click "Apps" in the top menu bar, then select the specific Adobe application you'd like to use (shown below).
Use Adobe Cloud Software Via ArgoApps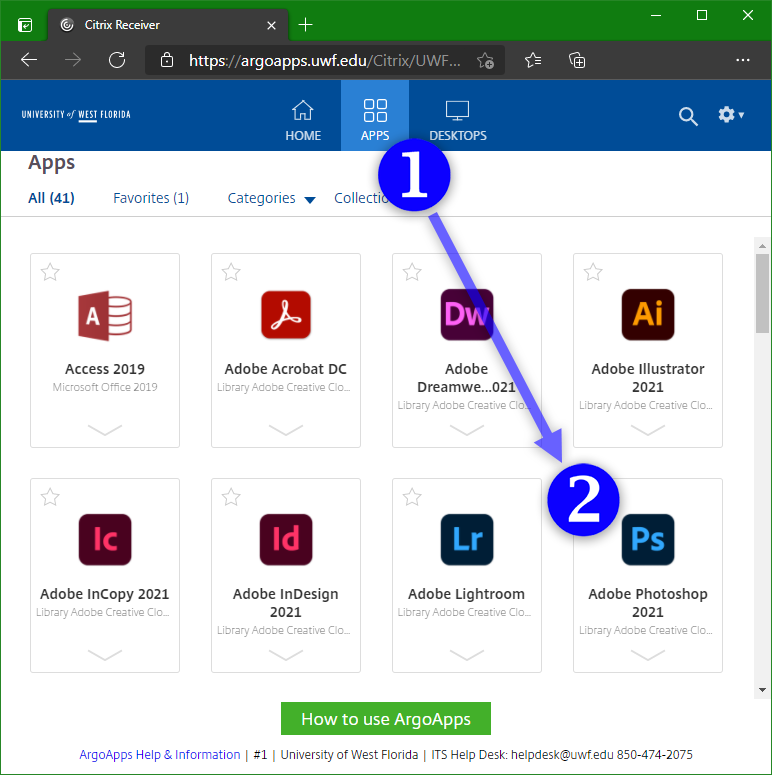 There are some limitations to using ArgoApps software via the web interface. For the best experience consider using the Citrix Workspace App. This application is already pre-installed on almost all library-owned machines and can be accessed by running the Citrix Workspace application on the Desktop or found in the Start Menu.

If you have your own device you can download and install the Citrix Workspace App by following these instructions in Confluence.
LinkedIn Learning
There are many excellent (and free!) courses on LinkedIn Learning that you can utilize to learn or enhance your skills with the Adobe Creative Cloud applications. Below is a non-exhaustive list to get you started.